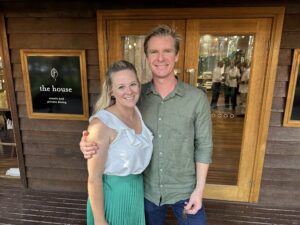 Meet the New Owners
Aaron and Kristy McGuigan are the proud new custodians of Leaves and Fishes, Lovedale. Taking over the reigns in early 2023, they made the decision to tread softly into their new rainforest habitat, integrating their family into a business that was lovingly grown by the previous owners. 'Now we understand this special place, we are so excited to branch out and establish fresh growth from the strong roots that have been planted here' says Kristy.
Their decision to purchase the property was vested in the desire to be part of something special where they could spend more time together as a family building a legacy – a place memories are made, of love, beauty, inspiration, and most of all retreat from the everyday not only for their two beautiful girls but for the community. It only takes one visit to the property to realise there are also plenty of indulgences incorporated on the side.
'The local community is crying out for more places to meet as a family and for experiences that can be shared together, or a regular place to visit where there is always something going on whether it be a workshop or a different dining experience. As a local business we feel a responsibility to deliver experiences to not just the visitors to our region but to the people who call the Valley home, and we are so excited to connect with everyone and hopefully become a second home to many.'
For visitors whether it be from the wider Hunter Region, Sydney, Newcastle or further abroad, there is no doubt that there is something for everyone in this special place.
Aaron and Kristy have already brought new energy into the area, teaming up with the local known and loved Nature and Nurture, running playgroups on Thursdays, and are excited to announce they'll be releasing a school holiday events programme in mid-August with plenty of activities to keep the kids busy and parents and grandparents sane over the September/October holidays. Adults haven't been forgotten – there are lots of exciting plans on the way with evening dining pop ups and adult workshops being thrown into the mix. 'We will also run plenty of weekly specials in the restaurant and café so families can make a day of it if they so choose' says Kristy as she shows me the design for the paint your own cookie activity they are currently offering in the restaurant.
'We'd also love to see more Locals booking our accommodation – as parents ourselves we understand the importance of reconnecting as a couple, and as much as we love holidaying as a family we miss those holidays, those trips away when it was just the two of us. What was so enticing to us about this property is it transports you to another time and place making it the perfect destination for escape without being too far from home. '
'So many beautiful memories have been made here and we now hope to be a part of many more people's journeys, whether it be their wedding, their holiday, special moments with their family or with the people they love, we want Leaves & Fishes to be a destination that keeps on giving.'
Leaves and Fishes History
Sharon & Damian Burke purchased the property on Lovedale Rd in 1976. Their home became the now unique wedding venue and they opened the Leaves and Fishes' restaurant in 2004. Since then it has become one of the most unique, and most visited restaurants in the Hunter Valley. With a great community of Hunter Valley regulars and also from abroad, the team at Leaves and Fishes has grown and evolved, aiming to stay on the edge of what is current and exciting in Australian dining.
Focusing on seafood, with an Asian kick, Leaves and Fishes started when Damian Burke began growing his own Silver Perch in the dam below Leaves and Fishes' front deck. Harvesting and serving them in the restaurant, they became one of the first seafood restaurants in the Hunter Valley region. Offering good, fresh food in a friendly atmosphere has always been their continued goal.
They expanded Leaves and Fishes' unique approach to dining with The Venue, an intimate, private environment for couples to utilise for unique weddings and events.
The Boathouses, Leaves and Fishes' accommodation, was opened in September 2008, offering luxury, couples only retreats. Surrounded by the Hunter's best wineries and restaurants, they offer visitors the choice between quiet weekend getaway and a true Hunter Valley experience.
The Store was added in 2018, again built by Damian with building materials sourced from Sharon and Damian's travels through India and Indonesia. Stocking homewares inspired by the Leaves & Fishes' aesthetic as well as items brought back from their travels, The Store also offers visitors and locals alike a sweet bite with a range of cakes, pastries and Coffee to go.
Leaves and Fishes has always been a family affair and our small team of staff members are also like family, each with beautiful personalities that prove to be a highlight each visit. We hope to see you soon!